Joyride To The South Side Of Crete
Seductive southern Crete
Although Crete hosts one-quarter of Greece's annual visitors, it's still possible to escape the crowds by heading south. Thanks to the rugged mountains that stretch across much of the island's spine, southern Crete remains a place apart.
Known for their hospitality, traditional music and healthy home-cooking, Cretans are also fiercely independent. They frequently rebelled under Venetian and later Ottoman occupation, with southern strongholds such as Sfakia (a rocky, barren territory centred on the port village of Hora Sfakion) remaining unconquered.
Due to the towering cliffs overhanging the sea, the Sfakia area remains peacefully isolated; nearby settlements such as Loutro, a fishing village shimmering with white houses, or Sweetwater and Marmara (Marble) beaches are accessible by boat (the intrepid can hike there instead). Boat trips hug the coast westward from Hora Sfakion to Paleohora, via Loutro and Agia Roumeli; the latter is where throngs of tired hikers stumble out of the Samaria Gorge – at 16km, Europe's longest.
A boat trip is ideal for traversing the south coast. It concludes at Paleohora – a small town which has preserved its laid-back character, despite being the jumping-off point for popular Elafonisi Beach on Crete's southwestern tip. The soft pink sands and islet here are undeniably enticing and, except in high summer, serene. Palaeohora also offers great live traditional music; the songs, known as mantinades(15-syllable folk verse accompanied by the Cretan lyra, or violin), fully express the island's powerful and melancholy spirit.
The southern mountains are dotted with tiny traditional villages, fantastic spots to buy hearty local olive oil and thyme honey, though Azogires has a freshwater lagoon where the itinerant nereids – those beguiling sea-nymphs of ancient Greek myth – can allegedly steal a man's soul on one sacred night each year. More otherworldly characters – the so-called drosoulites, or ghosts of fighters killed by the Turks in 1828 – can apparently be seen marching around dawn each year in late May, over at Frangokastello. This magnificent 13th-century Venetian fortress stands above a tranquil beach east of Hora Sfakion.
Triopetra's relative inaccessibility and tiny size have kept it blissfully quiet. Yet even the places that attract more visitors, such as lazy Plakias west of Preveli, stand apart from the north and its resorts. You can explore the palm trees of the famous Preveli Lagoon. All you need to do is take a boat trip leaving early in the morging from Plakias harbour. Preveli Beach is a beautiful place to go if you love nature. The big palmtrees and the river is beautiful!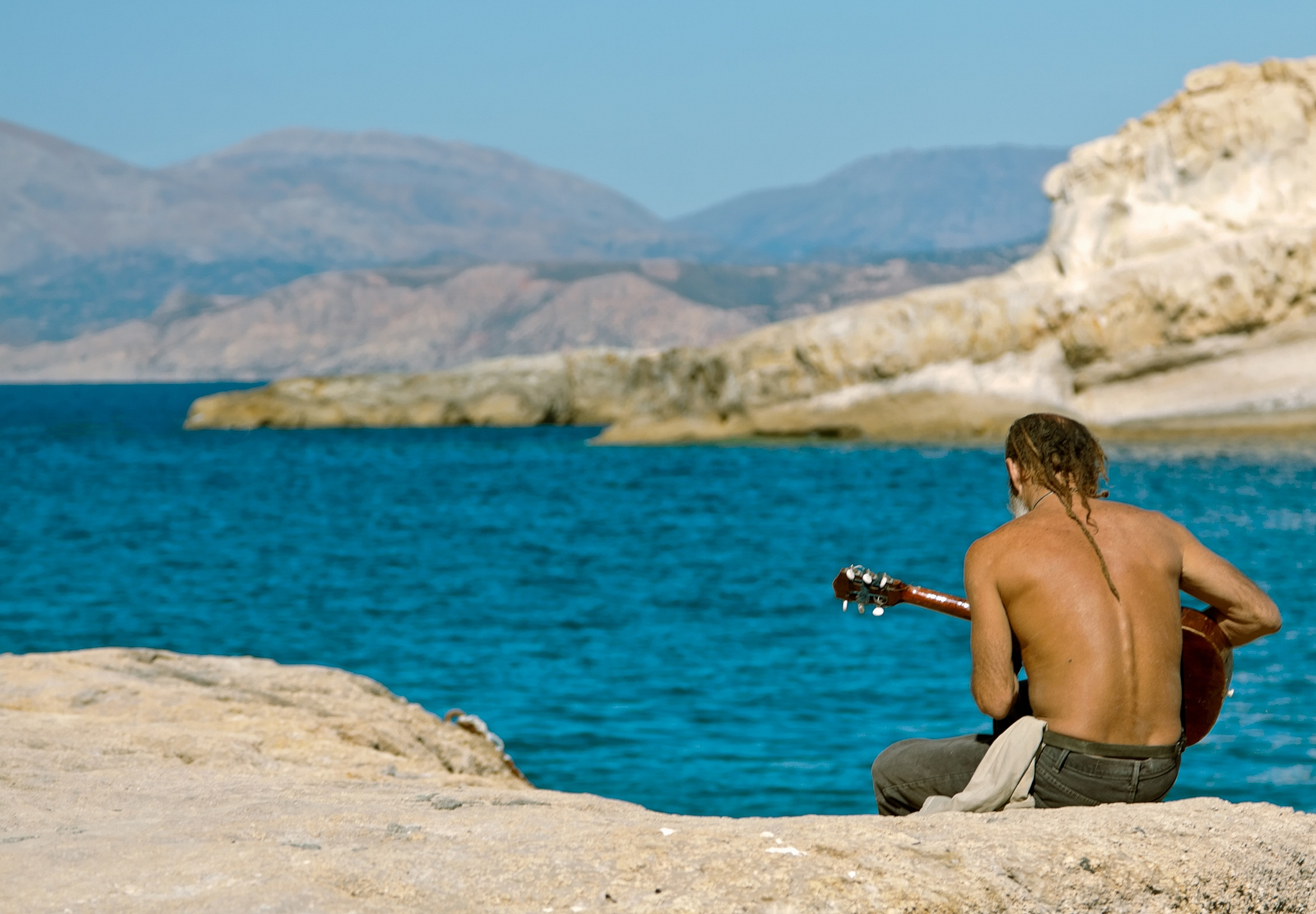 Having one of the south's longest beaches, Plakias has attracted some smallish hotels and restaurants, though the truly extraordinary Youth Hostel Plakias (open from Greek Easter through October) also attracts devotees of all ages.
One of the reasons why Plakias and other southern getaways have remained relatively immune from mass tourism is the terrific summer wind which roars through everything, pelting beach-goers with sand and whipping up whitecaps on the sea. But the winds also drive away the mosquitoes and break through that solid wall of summer heat. Channelled up and down Crete's mountain canyons – veritable wind tunnels – these stiff breezes are known to locals by individual names, depending on where they come from, how long they stay, and what gifts they bring with them.
Set beside a sweeping sandy crescent and accessed via two scenic gorges – Kotsifou and Kourtaliotiko – Plakias gets swarmed with package tourists in summer (when it can be very windy), but otherwise remains a laid-back indie travellers' favourite. The village itself is an excellent launch pad for regional excursions and hikes through olive groves, along seaside cliffs and to some sparkling hidden beaches.
Good but winding paved roads connect the south-coast towns, where the terrain allows. Regular buses run from the north-coast hubs of Hania and Rethymno to Paleohora, Hora Sfakion and Plakias.
This article was first published in lonelyplanet.com